In all our fields not a single person has attended school; they are so primitive and barbaric to the extent that they will run away any time strangers enter the village. We planned to take the gospel along with civilization and free education but were constrained by lack of fund.
Afri-Mission Schools for Orphans and Vulnerable Children
This project started in 2018 but was abandoned in 2019 and some partitions collapsed.  In December 2020 we got a generous donation that enabled us to revisit our dilapidated school building. This is a great milestone in the history of our ministerial project. We have struggled many years to provide education for our target groups at least in one of the mission fields but could not due to lack of financial resources
It is important to note that we are at present pioneering the gospel in 14 communities and not a single person has attended school in all our target areas. Children live like wild animals; roam the bushes naked and uncared for. Parents do not see their children for years. We went to these communities to preach the gospel but observed that the humanitarian needs are enormous and we considered it criminal negligence to preach Christ and allowed them   continue with their degraded life styles hence our humanitarian interventions.
Education project to the Unreached was born out of necessity and we thank God today that the vision has become a reality courtesy of our generous donors.
The security challenge in Nigeria can be traced to the negligence of these children by government and churches. They grow up to be bandits and terrorists. Afri-Mission and Evangelism Network envisions catching these children young through our OVC program
All our students in all our schools will be trained to become Missionaries who will reach their own communities with the gospel and love of Christ. This is a long-term vision which we strongly believe will change the narrative of gospel intervention in northern Nigeria.
We have mobilized over a thousand children to be enrolled in the school but only about one hundred and eighty of them will be enrolled for the next academic session due to our limited facilities. We plan to scale up this project by adding more blocks of classrooms and constructing school classrooms in the remaining 13 mission fields of our Intervention where not a single person has acquired western education.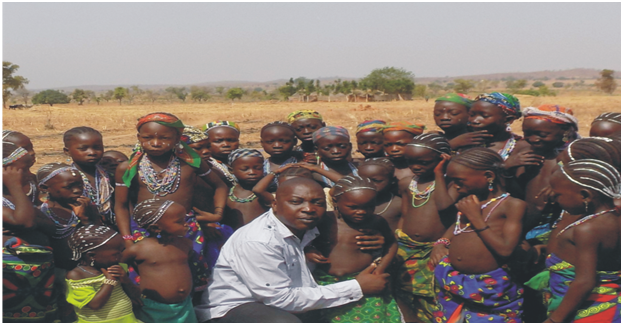 It is also important to note that it took us a lot to convince the parents to allow their children to be enrolled in school. Several school awareness campaigns were carried out by our team to break the yoke of ignorance on the need of education for these primitive tribes. We are trusting God for school desks, chairs, books, tables, teaching aids, school uniforms, shoes , sandals, school bags and sports wears for the 180 students that we are ready to enroll. We also believe God for the salary of 4 teachers that we are planning to employ. We are not expecting any contribution from the parents now because we are still doing everything humanly possible to encourage them embrace western education.
To the glory of God Almighty we got a donation of 36 pairs of chair and desk from World Outreach Ministries International and Ignited Church based in United States of America and are still sourcing for at least 54 pairs. We are getting ready to commence academic activities in September.
We plan to replicate this in the other 13 communities where we are at present pioneering the gospel. We trust God to help us because God's work done in God's way never lacks God's supply
Education to the unreached is as important as taken the gospel to them, ignorance of how to read and right has kept our target groups in total darkness. We plan to run morning session for the children and evening session for the adults. We are trusting God for school feeding program for the children as many of them are malnourished.